SURVEY OF MIDDLE EASTERN MUSIC
June 19 – 30, 2017
COURSE DESCIPTION
This course is a survey of the historical sources and underlying principles, forms, modes and rhythms of Middle Eastern music. Students learn to differentiate between the diverse forms and elements of Middle Eastern music, identify musical instruments, and recognize composers such as Sayed Darwish, Mohammad Abdel Wahab, Baligh Hamdy, Zaki Nassif, and Ziad Al Rahbani. Lectures are enhanced with recordings as well as live vocal and instrumental performances.
Hours of Instruction: 5.30 - 8.00 PM, Monday - Friday

INSTRUCTOR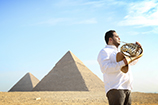 Egyptian hornist Amr Selim is an Assistant Professor of Music in the Department of Communication Arts at the Lebanese American University. He is one of the Arab World's foremost horn players, serving as Guest Principal Horn with Amman Symphony Orchestra, National Algerian Orchestra, Ars Flores Symphony Orchestra and Symphony of the Americas. He has toured as a soloist, chamber musician and teacher throughout Europe, South Korea, the Middle East and the United States. Dr. Selim holds a Bachelor of Music from Cairo Conservatory, and a Doctorate of Music Arts from Stony Brook University, where he was a recipient of the prestigious Staller Scholar award.

Course Fee: $2,085 (3 credits); Non-Credit Fee: $1,564
Application Deadline: May 1, 2017
Eligibility Requirements: Non-LAU Students & Adult Learners
Contact Information: amr.selim@lau.edu.lb

Application Process:
1. Complete the online application, creating a user account and selecting "New York" as application type.
2. Submit the below documents to international.services@lau.edu.lb by M​ay 1, 2017:
- A copy of your passport
- A passport-size photo
- Transcript(s)
- Form W9-S