People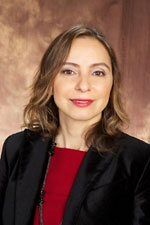 Lina Beydoun is the inaugural director of the New York Academic Center. In this capacity, she manages all of the Center's academic activities, including courses, workshops, seminars, lecture series, and public events, as well as collaborative efforts with other academic institutions and professional organizations in the United States. She has developed a comprehensive strategic plan for the Center and manages a budget for its educational and cultural activities.
Beydoun is dedicated to implementing international programs that emphasize cross-cultural understanding. Her global education experiences include managing Global Humanitarian Action and International Development programs; leading study-abroad programs in Egypt, Switzerland, and Costa Rica; and engaging in international initiatives on campus.
Prior to joining LAU, Beydoun was a Brookings Doha Center and Qatar University joint fellow, an assistant professor in the Sociology Department at Adelphi University, a Faculty Director in the Center for Global Education at George Mason University, and a lecturer in the Department of Interdisciplinary Studies at Wayne State University. She has developed and taught various sociology and interdisciplinary courses on human rights, international migration, global problems, world religions, Arab culture, and social science research. She has published in African Conflict and Peacebuilding Review, International Journal of Business and Social Science, Encyclopedia of Women and Islamic Cultures, Contemporary Sociology, Middle East Studies Association Bulletin, Middle East Women's Studies Review, Arab Studies Quarterly, Arab American Journal, and Al-Nahar Newspaper. She received her Ph.D. in sociology from Wayne State University and her B.A. in social and behavioral sciences from the American University of Beirut.
Contact:
Lina Beydoun, Ph.D.
Academic Executive Director
Tel: 917.720.8611
Email: lina.beydoun@lau.edu
---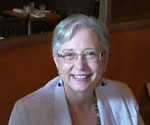 Marge Pfleiderer came to New York after getting a degree in music to work in the theatre as a stage manager, then became a cabinetmaker, a recruiter, an office manager, and finally came to LAU, where she essentially has come full circle: operations and stage managing having much in common.
Contact:
Marge Pfleiderer
Executive Director of Operations
Tel: 646.255.1330
Email: mpfleiderer@lau.edu