Syria Resilient Series: Music/Visual Art Performance: "Home Within"
Nov 3, 2016 6:30 PM
LAU New York
Syrian composer/clarinetist Kinan Azmeh and Syrian-Armenian visual artist Kevork Mourad will perform their renowned composition "Home Within," a moving portrait of the aftermath of the Syrian revolution. Mourad and Azmeh, both members of Yo-Yo Ma's Silk Road Ensemble, beautifully and skillfully evoke focused contemplation on a complex and tragic series of current events. Together, they highlight poignant moments in Syria's recent history by interweaving cutting-edge live illustrations, visuals, and original music compositions. The purpose of their project has been to raise awareness and funds for Syrian refugees.

The performance will be followed by a Q&A moderated by LAU professor of music Dr. Amr Selim.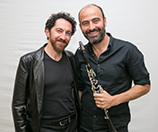 Kinan Azmeh is one of Syria's most celebrated virtuoso musicians. With his utterly distinctive sound, he seamlessly intertwines Western and Eastern styles, classical training with improvisational finesse. Born in Damascus, Kinan was the first Arab to win the Premier Prize at the 1997 Nicolai Rubinstein International Competition in Moscow. He is a graduate of New York's Juilliard School and the Damascus High Institute of Music. Kinan has performed worldwide as a soloist, composer and improviser. Notable appearances include: Opera Bastille, Tchaikovsky Grand Hall, Carnegie Hall, The Royal Albert Hall, Teatro Colon, der Philharmonie, The Kennedy Center, the Mozarteum, and the Damascus Opera House.
Kevork Mourad received his MFA from the Yerevan Institute of Fine Arts in Armenia. With his technique of spontaneous painting, he has shared the stage with many world-class musicians. He has performed at the Brooklyn Museum, the Chelsea Museum, The Bronx Museum, the Rhode Island School of Design, the Chess Festival of Mexico City, The Armenian Center for Contemporary Experimental Art in Yerevan, Le Festival du Monde Arabe in Montreal, the Stillwater Festival, the Nara Museum in Japan, The Art Institute of Chicago, the Rubin Museum of Art, Harvard University, The American Museum of Natural History, The Metropolitan Museum of Art. When Kevork lived in California, he was dubbed, "The Fastest Draw in the West!"
Both Kinan and Kevork are members of the Yo-Yo Ma Silk Road Ensemble.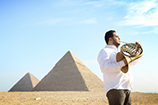 Egyptian hornist Amr Selim is one of the Arab World's foremost horn players, serving as Guest Principal Horn with Amman Symphony Orchestra, National Algerian Orchestra, Ars Flores Symphony Orchestra and Symphony of the Americas. He has toured as a soloist, chamber musician and teacher throughout Europe, South Korea, the Middle East and the United States. Amr holds a Bachelor of Music from Cairo Conservatory, and a Doctorate of Music Arts from Stony Brook University, where he was a recipient of the prestigious Staller Scholar award.

Click here for flyer

Read related news article
The Syria Resilient Series is made possible by the generous support of:
The Violet Jabara Charitable Trust
New York Council for the Humanities
Aida Sharabati-Shawwaf
Lloyd Baroody & Zeina Mehio