Film Screening: "Women In Time"
Nov 29, 2017
NYAC
Join LAU NY and IWSAW for the screening of "Women In Time," a documentary tracing the evolution of the Lebanese Women's movement in Lebanon from the late 19th century till the outbreak of the civil war in 1975.
The film screening will be followed by a Q&A discussion with Myriam Sfeir, Assistant Director of IWSAW.
6:15 PM: Reception with Lebanese buffet and wine
7:00 PM: Film screening of "Women in Time"
8:15 PM: Q&A discussion with Myriam Sfeir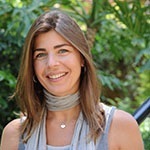 Myriam Sfeir joined IWSAW in 1996. Previously she served as senior managing editor of Al-Raida, the double-blind peer-reviewed journal published by IWSAW. Myriam earned her Bachelor degree in Philosophy from the American University of Beirut and her Master's degree in Interdisciplinary Women's Studies from the University of Warwick, United Kingdom.
The Institute for Women's Studies in the Arab World (IWSAW) at the Lebanese American University (LAU) was established in 1973 to pay tribute to LAU's origins as a girls' school and to fulfill its commitment to education, empowerment, and equality for women and girls. IWSAW was the first institute of its kind in the Arab region, and one of the first in the world.