"Assad Or We Burn The Country: How One Family's Lust for Power Destroyed Syria" by Pulitzer Prize-nominated Journalist Sam Dagher
May 30, 2019
NYAC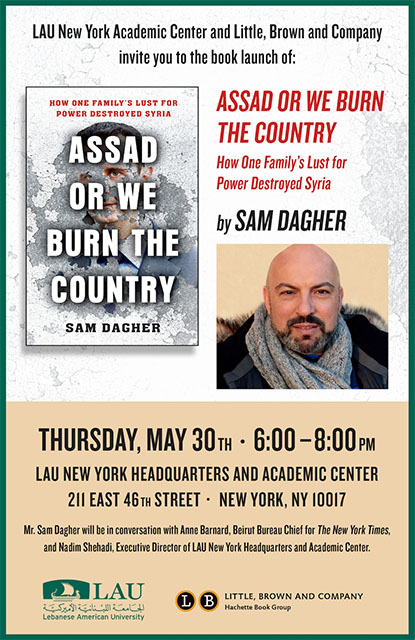 Sam Dagher will be in conversation with Anne Barnard, Beirut Bureau Chief for The New York Times and the 2018-19 Edward R. Murrow Press Fellow at the Council on Foreign Relations, and Nadim Shehadi, Executive Director of LAU New York Headquarters and Academic Center.
Speakers
Sam Dagher has reported in the Middle East for more than fifteen years, most recently for The Atlantic. He was the only non-Syrian reporter for a major Western media outlet based in Damascus from 2012 to 2014, a period during which he was arrested by a pro-Assad militia and briefly held in an underground mukhabarat (secret police) prison. He was later expelled from Syria for reporting deemed unfavorable to the regime.
He has worked for the Wall Street Journal, the New York Times, the Christian Science Monitor, and Agence France Presse, and has covered the conflict in Iraq, the Arab Spring uprisings, and Libya. The Wall Street Journalnominated Dagher's work from Syria for the Pulitzer Prize and other journalism awards.
Anne Barnard, a New York Times journalist, led coverage of the Syria war for six years, reporting from across the Middle East as Beirut bureau chief. Since 9/11, she has chronicled the human and strategic impact of U.S. war policies on frontline areas from Iraq to Syria and Gaza.
Barnard has worked from the Middle East intermittently since 2003, beginning as bureau chief for the Boston Globe in Baghdad, where she documented the American invasion and occupation of Iraq and its impact across the region.
A proficient Russian speaker, Barnard began her career in journalism twenty-five years ago, reporting on the tumult of post-Soviet Russia. She then covered local news for the Philadelphia Inquirer and the Boston Globe. After 9/11, she was dispatched to New York, then to Pakistan, Afghanistan, Iraq, Iran, and beyond. She joined the New York Times metro desk in 2007 and moved back to the Middle East in 2012. Barnard is the 2018-2019 Edward R. Murrow Press Fellow at the Council on Foreign Relations.
Brian Katulis
is a senior fellow at
American Progress
, where his work focuses on U.S. national security strategy and counterterrorism policy.
Katulis has conducted extensive research on the ground in the Middle East, where he has lived and worked in a number of countries, including Egypt, the Palestinian territories, Israel, and Jordan. His past experience includes work at the National Security Council and the U.S. Departments of State and Defense during President Bill Clinton's administration. He also worked for Greenberg Quinlan Rosner Research, the National Democratic Institute for International Affairs, Freedom House, and former Pennsylvania Gov. Robert Casey (D).
Katulis received a master's degree from Princeton University's Woodrow Wilson School for Public and International Affairs and a B.A. in history and Arab and Islamic Studies from Villanova University.
Nadim Shehadi
,
Executive Director of the LAU New York Headquarters and Academic Center,
is an Associate Fellow of the Middle East and North Africa Programme at Chatham House in London. He was previously the director of the Fares Center for Eastern Mediterranean Studies at The Fletcher School of Law and Diplomacy, Tufts University. He was also a senior member of St. Antony's College Oxford where he directed the Centre for Lebanese Studies from 1986 to 2005.
Mr. Shehadi trained as an economist with an interest in the history of economic thought. He has produced several publications, contributes regularly to media coverage of Middle Eastern affairs and has advised several governments and international organizations.
Book description:
From a Pulitzer Prize-nominated journalist specializing in the Middle East, this groundbreaking account of the Syrian Civil War reveals the never-before-published true story of a 21st-century humanitarian disaster.
In spring 2011, Syrian President Bashar al-Assad turned to his friend and army commander, Manaf Tlass, for advice about how to respond to Arab Spring-inspired protests. Tlass pushed for conciliation but Assad decided to crush the uprising — an act which would catapult the country into an eight-year-long war, killing almost half a million and fueling terrorism and a global refugee crisis.
Assad or We Burn the Country examines Syria's tragedy through the generational saga of the Assad and Tlass families, once deeply intertwined and now estranged in Bashar's bloody quest to preserve his father's inheritance. By drawing on his own reporting experience in Damascus and exclusive interviews with Tlass, Dagher takes readers within palace walls to reveal the family behind the destruction of a country and the chaos of an entire region.
Dagher shows how one of the world's most vicious police states came to be and explains how a regional conflict extended globally, engulfing the Middle East and pitting the United States and Russia against one another.

Timely, propulsive, and expertly reported, Assad or We Burn the Country is the definitive account of this global crisis, going far beyond the news story that has dominated headlines for years.