Women In Yemen: Impact of the Humanitarian Crisis
Jul 16, 2019
NYAC
Join us for a discussion of the situation in Yemen and the unique hurdles women and girls face in times of crisis. Featuring speakers from a variety of backgrounds, learn about what is being done at the policy level, in the field, and at the grassroots level here in New York. With Yemen currently facing the world's largest humanitarian crisis, don't miss this opportunity to learn how we can move towards a safer world for Yemen's women and girls.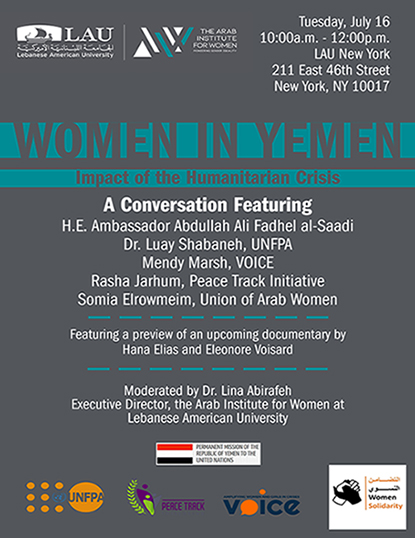 Panel:
H.E. Ambassador Saadi has been the Permanent Representative of Yemen to the UN since December of 2018. Before his latest appointment, Mr. Saadi was Ambassador to Turkey beginning in 2016. Prior to that, he served as Director in the Office of the Minister for Foreign Affairs between 2014 and 2016, and as Deputy Director of the Department of International Organizations and Conferences from 2013 to 2014. In 2009, Mr. Saadi was appointed Deputy Permanent Representative to the United Nations in New York.
In prior appointments, he held foreign service postings in Yemen's embassies in Canada and France, between various leadership roles at the Foreign Ministry in Sana'a, which he initially joined in 1988. Mr. Saadi holds a master's degree in international law from Moscow University, as well as a diploma in political science from the Moscow Diplomatic Academy.
Born in 1960, he is married and has four children.
Dr. Luay Shabaneh
, currently serves as the Arab States Regional Director of
UNFPA
, the United Nations Population Fund starting May 2016. A native of Palestine, he has held a number of high-profile national and international public service positions over the last two decades in the area of official statistics, population census, population and development, monitoring and evaluation, program management and advocacy within the UN System, in government and in the multilateral arena. He served as chief statistician of Palestine from 2005 until he started his UN career in 2009 with both UNDP/UNCT and UNFPA in Iraq, and the Regional Office for the Arab States since 2015 as the Regional Adviser for Population Data and Policies in ASRO.
Within the Arab region, he served as chair or member of several regional professional and research committees. Such as the Chair of the Statistical Committee of the Economic and Social Commission for Western Asia (ESCWA), Arab regional statistical forum and a member of the board of the Arab Institute for Training and Research in Statistics. Prior to that, Luay Shabaneh started his professional career at Palestine Central Bureau of Statistics (PCBS) in 1994 – 2005 he crowned his career there to be the second President of PCBS. Luay holds a Ph.D. in Applied Social Statistics from Lancaster University, UK, a Master's Degree in Mathematical Statistics from the University of Jordan and a Bachelor of Science in Mathematics from Baghdad University.
Rasha Jarhum
is a South Yemeni. Jarhum is co-founder and Director of the
Peace Track Initiative
, hosted at the Human Rights Research and Education Centre, at Ottawa University. She is a Gender, Peace, and Security Expert. She has more than 15 years' experience working to advocate women's, children's and refugees' rights with many organizations including UNICEF, ESCWA, UNDP, and JICA, in Yemen and the Middle East and North Africa region.
She held the position of Regional MENA Gender and Advocacy Manager at Oxfam Regional Gender Justice Programme. Jarhum was invited among seven women by the UN Special Envoy to Yemen to support the peace talks held in Kuwait in 2016 and has briefed the UN Security Council on Yemen and Women's Rights to push for peace. She is an affiliated scholar with the American University of Beirut and an alumnus of the Executive in Residence Fellow at the Geneva Centre for Security Policy (GCSP).
She is also a 2016 New Voices Aspen fellow at Aspen Institute, USA. Jarhum holds a master's degree from the University of Nottingham, in International Business Management. Jarhum is an award winner of the Women Have Wings Award (2016) and Women Rebels Against War: Anita Augspurg Prize (2019). She is a member of the Women Alliance for Security Leadership (WASL). She is also a founding member of the Women Solidarity Network in Yemen, a founding member for the MENA1325 Network, and a member of the MENA regional Coalition of Women Human Rights Defenders and member of the Women, Peace, and Security Network- Canada.
Mendy Marsh
, Co-founder and Executive Director of
VOICE
, Mendy Marsh is a feminist social entrepreneur and movement builder with over 20 years of experience working on violence against women and girls (VAWG). Her mission is to amplify the voices of women and girls, to ensure that conflict and disaster responses are centered on what they know they need. An industry expert on VAWG in conflicts and disasters, Mendy managed the global VAWG in emergencies portfolio at UNICEF headquarters for almost 10 years, where she drove UN entities, NGOs and research groups to develop innovative tools, shaped UN policy, raised millions of dollars, and defined cutting-edge interventions to promote the empowerment of women and girls in humanitarian contexts.
She drove the creation of a global team of recognized experts that trained and mentored over 3,500 humanitarian actors on preventing and responding to risks of VAWG across 18 countries. Her work helped UNICEF provide services to 4.6 million women, girls and boys in humanitarian settings across 53 countries. Mendy has master's degrees in both Public Health and Social Work from Columbia University, and she is the author of articles in professional journals on reproductive health, and the prevention and response to sexual violence in conflict settings.
Hana Elias & Eleonore Voisard, Eleonore Voisard is a documentary filmmaker and journalist achieving a Masters at the Columbia Graduate School of Journalism. Her past experiences are with Agence France Presse newswires and production companies in Paris and the Middle East.
Hana Elias is a documentary filmmaker and journalist achieving a Masters of Science at the
Columbia Graduate School of Journalism.
Prior to her studies she was an assistant editor on three documentaries and has produced her own short documentary in 2014 which played in festivals internationally.
Somia Elrowmeim
, is a Yemeni-American organizer, educator, and advocate. She currently serves as the Adult Education and Women's Empowerment Program Manager at the
Arab American Association of New York
. She joined the association in 2011 as a volunteer and has continued to serve her community as a dynamic leader, English language instructor and activist. Somia's passion for community organizing, education, and women's empowerment, began as a student leader at Sana'a University in Yemen, where she earned a Bachelor's degree in Physics and Mathematics.
Since then, Somia has led Brooklyn's Arab-American community in voter registration drives, town halls, small group meetings, and actions and rallies of local, national, and international import. Somia doesn't shy to speak truth to power, whether at the Women's March on Washington, protesting Trump's Muslim Ban, holding city council members accountable to their constituents, defending the rights of domestic violence survivors, or protesting Saudi Crown Prince Mohammad Bin Salman's visit to New York City for his continued war in Yemen.
In addition to her work as an advocate and educator with the Arab American Association, Somia serves as the vice president of Yalla Brooklyn, an initiative aimed to increase voter turnout of Brooklyn's Arab community. She is also the founder of the Union of Arab Women, a member-led organization encouraging the civic engagement, economic empowerment, health, and education of New York's Arab women.