Policy Implications of Legalizing Cannabis Cultivation in Lebanon
Jun 26, 2020
NYAC (Online)
Lebanon's parliament in April passed a law legalizing cannabis farming for medicinal and industrial use for export in efforts to boost the economy and government balance sheet. A first in the Arab World. Join LAU for a discussion around the law and what it means for drug policies in Lebanon and the region, a comparison with the US and how medical marijuana has influenced policy reform, and a look at further opportunities for research and development in Lebanon.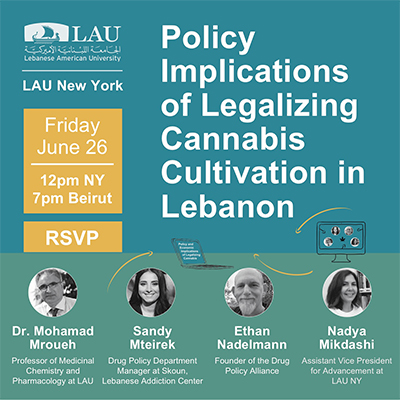 Register here: https://lau.webex.com/lau/onstage/g.php?MTID=e375edb50361e5c1ee8a61e74e4e55e2b
Password: drugpolicy
Date
Wednesday, June 26, 12pm New York / 7pm Beirut
Speakers
Dr. Mohamad Mroueh, Professor of Medicinal Chemistry and Pharmacology, LAU School of Pharmacy
Ethan Nadelmann, Founder and Former Director, Drug Policy Alliance
Sandy Mteirik, Drug Policy Department Manager, Skoun Lebanese Addiction Center
Moderator
Nadya Mikdashi, Assistant Vice President for Development, LAU NY
Bios
Dr. Mohamad Mroueh is a Professor of Medicinal Chemistry and Pharmacology. He holds a BS in Chemistry from the Lebanese University, MS in Medicinal Chemistry and Pharmacognosy and PhD in Pharmacology from the University of Houston, Texas, USA. He conducted postdoctoral studies in cancer research at the University of Texas MD Anderson Cancer Center. In 1995, Dr. Mroueh joined the Lebanese American University as a co-founder of its School of Pharmacy, the only ACPE accredited school of pharmacy outside the USA. His research focuses on the development of new therapeutic agents, with an emphasis on herbal medicines and synthetic bioactive compounds for the treatment of cancer and inflammation. He also conducted research on food chemistry and toxicology.
He has co-authored more than fifty publications in international peer-reviewed journals and has presented his research work at various international conferences. Dr. Mroueh is a member of several scientific associations and societies, member of the Editorial Board and a reviewer for several international scientific journals. In addition, he is a member of the National Committee for Food Supplements and Herbal Products at the Lebanese Ministry of Public Health. Currently, Dr. Mroueh is a leading figure in medicinal cannabis research, and was a leading voice for medicinal cannabis policy reform in Lebanon.
Sandy Mteirek heads the Drug Policy Department at Skoun, Lebanese Addiction Center. For the past seven years, Sandy has worked to advance Lebanon's drug policy reform focusing on increasing access to healthcare, education, and social justice for people who use drugs. Sandy is an activist for civil liberties and human rights and advocates for the decriminalization of drug use in Lebanon.
Described by Rolling Stone as "the point man" for drug policy reform efforts and "the real drug czar," Ethan Nadelmann has played a leading role in drug policy reform efforts in the United States and globally since the late 1980s. Ethan was born in New York City and received his BA, JD, and PhD from Harvard. His advocacy began while teaching politics and public affairs at Princeton University (1987-1994). He then founded first The Lindesmith Center (1994-2000, a drug policy institute created with the philanthropic support of George Soros) and then the Drug Policy Alliance (DPA), which he directed from 2000 until 2017. His TED Talk, "Why we need to end the drug war," has over two million views, with translations into 28 languages.
Ethan and his colleagues played pivotal roles in most major drug policy reform ballot initiative campaigns in the United States from 1996 to 2016, on issues ranging from medical marijuana and marijuana legalization to prison reform, drug treatment and reform of asset forfeiture laws. They also have reformed state and federal laws involving drug sentencing, drug treatment, access to sterile syringes to reduce HIV/AIDS, prevention of overdose fatalities, and all aspects of marijuana policy. He has played a key role as drug policy advisor to prominent philanthropists as well as elected officials at all levels of government in the U.S. and abroad.
Nadya Mikdashi oversees development, donor relations, alumni services and strategic communications efforts for LAU in North America. She co-founded Skoun Lebanese Addiction Center, a non-profit that pioneered community-based treatment and harm reduction for substance use. Skoun has established three treatment facilities, over the past fifteen years, and has grown from a grassroots project to a national organization. Today, Skoun drives drug policy reform in Lebanon alongside providing support services to hundreds of people and their families. Mikdashi has a BA in psychology from the American University of Beirut and an MS ED in counseling and from Fordham University.