People
(In alphabetical order by last name)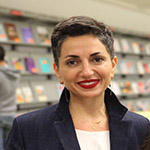 Dr. Lina Abirafeh, (Executive Director
of the Arab Institute for Women at the Lebanese American University)
is based in New York and Lebanon. Her background is in gender-based violence prevention and response in development and humanitarian contexts.
She brings over 20 years' experience in countries such as Afghanistan, Haiti, Democratic Republic of Congo, Nepal, and others.
Contact:
Lina Abirafeh, PhD
Executive Director
The Arab Institute for Women at the Lebanese American University
Tel: 212.203.4333
---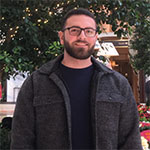 Henry Baraket (Student Serviced Assistant) assists with LAU's SINARC Arabic Language and Culture Program, the GCI Model United Nations, and other student related programs.
He graduated from the University of Balamand in Lebanon with a B.A. in Political Science and International Affairs with an emphasis on Middle Eastern Affairs and a minor in English Literature. He is currently pursuing an M.S. in National Security Studies at the New Jersey City University.
Contact:
Henry Baraket
Student Services Assistant
212.203.4333 x3532
---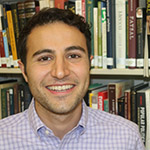 Albert Doumar (Executive Assistant) supports Executive Director Nadim Shehadi.
He previously worked as an Associate for the Middle East Practice and McLarty Media at McLarty Associates, an international advisory firm based in Washington, DC. He graduated in 2015 from Georgetown University's School of Foreign Service where he majored in the International Political Economy.
Contact:
Albert Doumar
Executive Assistant
212.203.4333 x3518
---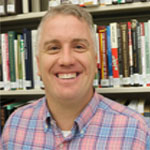 David R. Grosner (Chief Investment Officer for LAU) manages all facets of LAU's $500 million endowments, including asset allocation, manager selection, due diligence, liquidity, and risk management. Mr. Grosner joined LAU in the summer of 2009, and currently manages the New York Investment Office.
Prior to joining LAU, he worked for Hewitt Investment Group as principal, senior investment consultant, and co-head of investment manager research. Mr. Grosner has also held positions with the Commonwealth Bank of Australia, Cap Gemini Ernst & Young, and RXR Capital Management.
Mr. Grosner has almost 25 years of investment experience beginning his investment career in 1993. Mr. Grosner graduated magna cum laude from Providence College in 1993 earning a Big East Scholar-Athlete Award for Division 1 Varsity Golf. In 2001, he earned an MBA graduating with distinction (top 10% of class) from the NYU Stern School of Business.
At NYU, he was selected as a graduate teaching assistant and Stern Scholar. He earned the CFA and CAIA designations in 2004 and 2011, respectively. Mr. Grosner enjoys golf, running, and travel. He is a lifelong resident of Fairfield, CT.
Contact:
David R. Grosner, CFA, CAIA
Chief Investment Officer
Tel: 646.255.1331
Email:david.grosner@lau.edu
---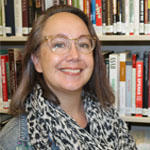 Erika Iverson (Associate Director of Development) is proud to be a grant writer and fundraiser for Lebanese American University. Most recently, she served as the Project Manager for the successful crowdfunding campaign supporting the Courage to Fight Breast Cancer program. She received her B.A. from Williams College and an M.F.A. from Columbia University.
Before LAU, she worked for The Metropolitan Museum of Art, the Daryl Roth Theatre, and the Magis Theatre Company. In addition to her work at LAU she also co-produces a storytelling series and podcast called No, YOU Tell It!
She is a certified teacher of the Alexander Technique and a podcasting nerd. Her solo performance work has been seen at the Cornelia Street Café, Fez, Jimmy's No 43, and The Alchemical Laboratory Theater.
Contact:
Erika Iverson
Associate Director of Development
Tel: 212.203.4333 x3524
Email:erika.iverson@lau.edu
---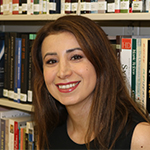 Elida Jbeili (Director of Communications and Media) manages the communications channels and tools that increase the presence and promote the image of LAU in North America. Previously, Elida has worked at City College of New York, UNICEF, and Amnesty International.
In her most recent role as a Program Officer for Religions for Peace, her work involved running and setting up communications campaigns for the global youth program that she managed in 5 regions and 93 nations.
Elida received her M.A. in Near & Middle Eastern Studies from The CUNY Graduate Center and her B.A. from The City College of New York. Born in Beirut, raised in Sweden, she has now lived in New York City for 16 years.
Contact:
Elida Jbeili
Director of Communications and Media
Tel: 212.203.4333 x3515
Email:elida.jbeili@lau.edu
---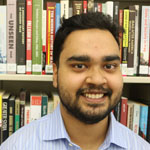 Tanvir Khan (Operations Associate)
helps to maintain all IT systems and provide support for staff at the New York office by diagnosing and troubleshooting any technical issues.
He graduated from Manhattan College in 2018 with a Bachelor's of Science in Computer Engineering. Previously, Tanvir worked for Manhattan College IT services for four years; two as a Client Services Technician/Supervisor aiding faculty and staff with various office, classroom, and lab issues and helping to manage and delegate tasks to the team through TeamDynamix and two years as a Junior System Administrator assisting in creating and deploying Windows lab and classroom images and Windows/MacOS scripts through Quest KACE.
In his spare time, he can be found tinkering with electronics and learning about new technologies.
Contact:
Tanvir Khan
Operations Associate
212.203.4333 x3502
---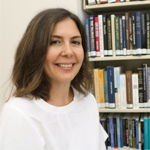 Nadya Mikdashi,
(Assistant Vice President for Development)
, oversees development, donor relations, alumni services and strategic communications efforts for LAU in North America. She co-founded Skoun Lebanese Addiction Center, a non-profit that has pioneered community-based treatment for substance abuse and evidence-based drug education. Skoun has established four treatment facilities and worked in hundreds of schools, and over the past fifteen years, has grown from a grassroots project to a national organization. Today, Skoun has a staff of 25 that serves thousands and drives drug policy reform in Lebanon and the region.
Mikdashi has a B.A. in psychology from the American University of Beirut and an M.A. in counseling and counseling psychology from Fordham University. Mikdashi has a long family history with LAU; both her siblings and her mother studied there, and her father was the founding dean of the Adnan Kassar School of Business.
Contact:
Nadya Mikdashi
Assistant Vice President for Development
Tel: 212.203.4333 x3506
---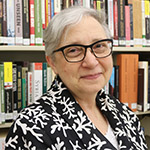 Marge Pfleiderer (Executive Director of Operations) came to New York after getting a degree in music to work in the theatre as a stage manager, then became a cabinetmaker, a recruiter, an office manager, and finally came to LAU, where she essentially has come full circle: operations and stage managing having much in common.
Contact:
Marge Pfleiderer
Executive Director of Operations
Tel: 646.255.1330
Email: mpfleiderer@lau.edu
---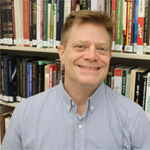 John Onderdonk (Operations Project Manager) is a native New Yorker with a degree in economics. After a career in banking, John stepped away from Wall Street and devoted his time to raising his son as a full-time parent. In his spare time, John applied his financial background as a board member and treasurer of a local non-profit organization and his residential cooperative. When the opportunity presented itself, John decided to get back into the workforce.
Who knew that finance, volunteering, and child-rearing would be just the right training to become an Operations Project Manager; the position he currently holds at LAU New York.
Contact:
John Onderdonk
Operations Project Manager
Tel: 212.203.4333 x3514
Email:john.onderdonk@lau.edu
---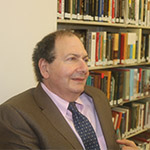 Mr. Nadim Shehadi, (Executive Director of the LAU New York Headquarters and Academic Center) is an Associate Fellow of the Middle East and North Africa Programme at Chatham House in London. He was previously the director of the Fares Center for Eastern Mediterranean Studies at The Fletcher School of Law and Diplomacy, Tufts University. He was also a senior member of St. Antony's College Oxford where he directed the Centre for Lebanese Studies from 1986 to 2005.
Mr. Shehadi trained as an economist with an interest in the history of economic thought. He has produced several publications, contributes regularly to media coverage of Middle Eastern affairs and has advised several governments and international organizations.
Contact:
Nadim Shehadi
Executive Director LAU New York Headquarters and Academic Center
Tel: 212.203.4333 x3505
Email:nadim.shehadi@lau.edu
---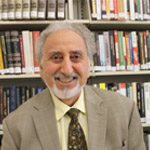 Edward Shiner (Director of Alumni and Special Projects) began his service to LAU in October of 2006. This is Ed's fourth career and he still "doesn't know what he wants to be when he grows up!" He has a B.S. degree in Music Education with a concentration in piano performance and an M.M. in Music History and Literature. Ed has taught public school, gave private piano lessons and was a professional ballet pianist for over ten years.
Ed has also managed a family candy business and served as the Executive Director of The National Apostolate of Maronites (NAM) for 23 years.
Ed's love of music has developed into a 28-year active member of the West Village Chorale in New York where he sings tenor and has served on the chorale's board of directors for 27 years, holding all officer positions at one time or another over those years. All four of his grandparents' hail from Lebanon.
Contact:
Edward Shiner
Director of Alumni and Special Projects
Tel: 646.255.1099
Email:ed.shiner@lau.edu